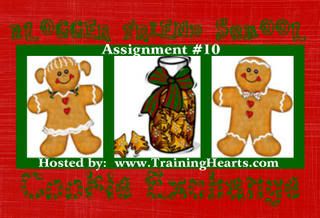 Part A: Please share your Favorite Christmas/Holiday Cookie Recipe(s)!
Part B: Share a memory, story or tradition about baking any Christmas/Holiday goodies.
Part C: Share a verse that is upon your heart this week.


PART A:
My FAVORITE Christmas/Holiday Cookie Recipe would be a recipe I found off of Allrecipes
several years ago...and that would be... (I try to make some soon and post a pic)
BEST EVER SOFT GINGERSNAP COOKIES
1 1/2 cup butter or margarine, softened
2 cups sugar
1/2 cup molasses
2 eggs
4 cups flour
1/2 teaspoon salt
4 teaspoons baking soda
2 teaspoons cinnamon*
2 teaspoons cloves*
2 teaspoons ginger*

Cream together butter, sugar, and molasses. Add eggs and mix again. Add the dry ingredients and mix until well blended. Roll into small balls and then roll in sugar. Bake at 375*F for 10-12 minutes. Makes about 6 dozen.

*Can add more to your desired taste

These are great dipped in white almond bark!


PART B:
I have two memories...One memory I have is about those cookies above...When we lived up in WA I made goodie bags for everyone that worked with my dh...one of the things I put in the bag was those cookies. Our friend, Jesse, liked them and I can't remember if he asked for more and I made them a bag full or exactly what...but I remember that somehow Jesse got more...he and Adrienne car pooled to work together and one evening they got stuck in traffic. Adrienne was really hungry and happen to have received a batch of my cookies that day...Mr. Jesse didn't even have a chance...Adrienne ate them all!!! LOL!!!

A FAVORITE Christmas baking memory is when we were living in our RV for a time, and came back to TX while dh had to work in AZ (or was it WA? LOL!!!) We stayed in our RV down the road from some dear friends (the one's I wrote about the other day in Houston). My friend, M, and I decided we would have a baking day. It was SO much fun...we made sure we made lots of cookies and I took lots of pictures! I even threw flour on everyone to make it look like we were hard at work (you know like the old Rice Krispies Treat commercial)


PART C:
A Verse...
Psalm 34:8
Taste and see that the LORD is good; blessed is the man who takes refuge in him.